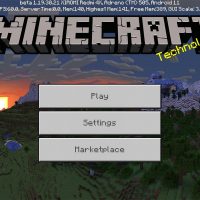 Minecraft PE 1.19.30.21
Download Minecraft PE 1.19
Download
Download Minecraft PE 1.19.30.21 with a working Xbox Live: use new features, explore endless worlds and meet their unique inhabitants.
What is new in Minecraft 1.19.30.21?
Developers have pleased users with a large number of fixed bugs this time by releasing another update of their favorite game. In Minecraft PE 1.19.30.21 fixed a crash that occurred when moving from the Lower World or Edge.
Now players can easily navigate the vast expanses. The performance of a command such as /locate biome has also been improved. In case we are talking about searching for a remote territory.
Please note that Ancient City has a secret door that leads to the room of Redstone. Moreover, its closing and opening is now happening correctly.
Viewer Mode
In this relatively recently appeared mode, large-scale work continues to be carried out and the developers do not remove the experimental status from it. At the same time, this feature has been available to players for a long time.
In Minecraft 1.19.30.21, the ability to change emotions for the viewer has been removed. By the way, their heads are displayed as translucent, even if they are wearing some kind of headdress. But capes and cloaks, unfortunately, will not be displayed at all.
Also, for players who are in the observer state, portals will be unavailable for use. These devices will not affect them.
Mobs
Thanks to the changes in Minecraft PE 1.19.30.21, interaction with mobs will become even more interesting, and sometimes dangerous. The fact is that if a player is wearing armor made of gold, Piglins will not attack him.
The capabilities of Allay are also expanding, he can throw things at the hero while being in the boat. Also, this very friendly creature will always help to collect blocks of scaffolding that have fallen.
Also fixed a bug that could cause the fish to shake if it was placed in an isolated pond. And polar bears will no longer panic during an attack.
What abilities did Allay get in MCPE 1.19.30.21?

He can pick up and drop items at their owner when in a Boat.

Where can players find the lost treasures in Minecraft PE 1.19.30.21?

How can players find the Ancient City?

Go to the Deep Dark biome.
Download Minecraft PE 1.19.30.21