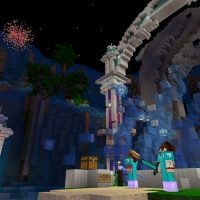 Block Hunt Map for Minecraft PE
Version MCPE: 1.0.0 - 1.20.31
Download
Download the Block Hunt map for Minecraft PE: an exciting minigame with lots of fun and thrilling moments.
Block Hunt MCPE Map Highlights
Luckily for all Minecraft PE users, this game has tons of minigames to play and have fun with your friends or alone.
Some of them allow users to be brave heroes fighting for their beds or cruel mercenaries trying to survive in the skies.
However, Block Hunt is a game like no other. It seems you'll have to hide, so no hunter would find you in MCPE.
This minigame reminds of hide-and-seek, but it's more intricate. Players will have to divide into two groups: one will sneak, and the other will seek.
Location
Block Hunt usually takes place on a large map with numerous unique and distinctively different locations. It's made with the purpose of letting hiders disappear better.
This MCPE map has a relatively small space but contains five rooms, a forest, a little castle, and even a mountain range.
Therefore players will definitely find a place to hide. On the other hand, hunters will have some advantages too. According to the rules, there can be more searchers than usual.
Treasure Hunt
This Minecraft PE map is a bit different than other Block Hunt locations. One should no longer look for hidden users but treasure chests all around the excavation zone.
There are multiple areas with buried crates. These contain diamonds, tools, and even armor to fight off the upcoming zombie horde.
It is not an easy task to find one. You are obliged to examine the territory first, grab your most adequate tools, and start digging until you spot one in MCPE.
Users are free to invite their friends to participate in this exciting process. It will be nearly effortless to start the excavations with no problems.
The more mates you'll beckon, the more thrilling it will be to finally get the desired box. On the other hand, the spirit of the competition shall arise as well.
After all, only one user will get a chance to possess all newly found goods in Minecraft PE.
How do I find a hidden user in Block Hunt MCPE Map?

Try paying attention to the most odd-looking blocks.

Can I become a hunter?

Yes, you can be a hunter.

Is the map bg?

Yes, it is quite a big map.
download anchor
Download Block Hunt Maps for Minecraft PE