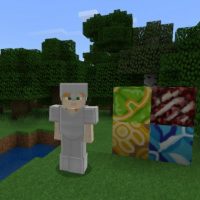 Faithful Texture Pack for Minecraft PE
Version MCPE: 1.4.0 - 1.19.83
Download
Download Faithful Texture Pack for Minecraft PE: evaluate how the cubic world has changed, which has received great detail of all objects and objects.
What is interesting is the Faithful Texture Pack?
The authors of Faithful Texture Pack managed to create an update that is optimally suited for most devices. It will transform the cubic world, making every detail of it drawn and organic.
Minecraft PE players will be able to choose for themselves from two resolution options, each of which has distinctive features. But at the same time, it will help to create an amazing atmosphere and a beautiful picture in the game space.
32×32
Faithful Texture Pack is one of the most famous sets of decorations that exist for Minecraft PE at the moment. Players will be able to enjoy noticeably improved graphics of the game.
At first glance, it may seem that nothing has changed, but if the player looks closely, all the smallest details become noticeable. For example, pigs now have a cute rounded tails, and cows have horns.
Also, if players start looking at the blocks, they can see that all the smallest pebbles, gravel, and crushed stone are drawn on them. This creates a truly amazing atmosphere in the cubic world.
64×64
It is worth noting that literally, all the components of the game space have become more realistic. Thus, even the food will look more natural. And if users pay attention to the armor of the weapon, they will notice that they have worked out even the smallest details.
The authors of Faithful Texture Pack have done extensive work and created a truly unique update that will appeal to most Minecraft PE users. Even the foliage on the trees and the water will look beautiful and organic.
There are two resolution options available for players so that each of them can choose the best option for themselves.
What if the Faithful Texture Pack does not work?

Try to activate the experimental game mode.

Can I use it on servers?

Yes, you are free to use it on public servers.

How do I install this texture pack?

The file is in .mcpack extension, so just tap on the file to automatically install the modification.
Download Faithful Texture Pack for Minecraft PE