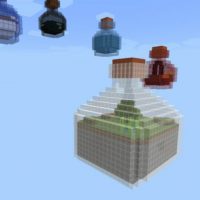 Bottle Survival Map for Minecraft PE
Version MCPE: 1.19.0 - 1.20.31
Download
Download Bottle Survival Map for Minecraft PE: try to survive in vessels made of blocks of glass and explore each of them.
What is interesting in the Bottle Survival Map?
Not every Minecraft PE player will dare to survive in such difficult conditions. The fact is that at this location the hero finds himself inside a huge glass vessel. The territory is similar to the well-known skyblock, where the islands are also located in the middle of celestial space and emptiness. Similarly, on the Bottle Survival Map, each object has a unique territory.
Some have animals on them, while others have useful resources. Explore them all to survive.
Variants
Players are waiting for about a dozen glass vessels, inside which there are resources or animals. Each of them represents a specific biome or location of Minecraft PE. For example, on the jungle island, players will meet a panda that lives there. Deep Dark is also presented, where the heroes will be met by Sculk blocks.
By the way, there are territories with portals to the Ender World, where brave travelers will meet aggressive creatures. It is worth noting that, as in the skyblock trials, Bottle Survival Map has very limited resources.
Therefore, to stay alive, players should use all the blocks and resources found very efficiently.
Another interesting bottle island can be considered a Store. Players can get into it through the portal and purchase items necessary for survival.
Features
Bottle Survival Map is great for both single-player and multiplayer games. Minecraft PE heroes will have to figure out how to get to the nearest location. You can do this, for example, by building a bridge or a staircase.
This will be necessary because the resources of each bottle are extremely limited and to stay alive, you need to constantly move forward, exploring the space.
How to download Bottle Survival Map?

Tap the file and open it in Minecraft PE.

Can I use this map with my friends?

Yes, the map can be used for a multiplayer game.

Can i use the map in the survival mode?

Yes, the map is suitable for the survival mode.
download anchor
Download Bottle Survival Map for Minecraft PE