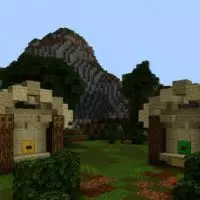 Bed Wars map for Minecraft PE
Version MCPE: 1.0.0 - 1.20.15
Download
Download Bed Wars map for Minecraft PE: hurry up to break the beds of your opponents, leaving them no chance of survival!
Bed Wars map for MCPE
This minigame has won a great deal of love among MCPE players. Its essence is the destruction of enemy teams. Each of them has its bed, which allows them to reseat.
If this bed is broken, the team members can no longer be respawn and, accordingly, will leave the game at the death. The team that wins is the team that stays last in the game. Maps of the same genre start only with version MCPE 1.0.0.
Christmas
One of the first maps to play in BedWars in Minecraft PE is the Christmas map. It runs on almost all versions of the game. Once on the ground, choose your team and move to your island. Each team will have a chest with an initial set of items.
Smart Bed Wars
The game on this map, unlike the previous one, is automated. The user will appear in the beautiful lobby in Minecraft Pocket Edition, where all the information is necessary for the game.
Also, there is a Hotbar with all the information about the teams: a bed for the groups and the number of players. It is worth noting separately that there is protection against regime change, which excludes possible fraud during the game.
Modern
Modern is the last and widest functional Bed Wars map on MCPE. As on the previous map, the player appears in the lobby, where they are asked to choose the game mode: 2, 3 and 4 players.
After everyone has gathered, the game begins. If any player loses, they will be put into observer mode, allowing them to follow the game.
Planetary devastation
In turn, this map on Bed Was has been called planetary devastation. At this location, two to eight players can play simultaneously. The area has gold, diamond, and emerald generators.
For the convenience of Minecraft PE users, the map is automatically regenerated after each game.
How do I become normal again?

You have utilize a unique device to make this happen.

Where can I get these items?

You may craft or find them.
download anchor
Download Bed Wars Map for Minecraft PE