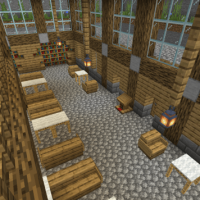 Find Button Map for Minecraft PE
Version MCPE: 0.17.0 - 1.20.32
Download
Download Find Button Map for Minecraft PE: Use all your attention to find a way out!
Find Button Map for MCPE
It is one of Minecraft PE's well-known mini-games. In these maps, the player must find buttons that lead to the next level.
 At first, it seems simple, but it takes a considerable amount of time to find it in reality.
Find the mystery button
The first small map created by the player under the name SkySlimeCrafter will make your free-time.
The small cozy house by the pond is littered with beautiful sets, which skillfully hide the coveted button from the player.
Find The Button
An old but no less exciting map for Minecraft Pocket Edition. There are ten levels, each of which requires a button. It is worth noting that the locations are individual in their way.
The player can enjoy the game and admire the beautiful buildings.
Escape
The player has to break out of prison at Minecraft Bedrock Edition in the story. However, he has to find buttons to go through all five levels.
It's going to get harder and harder every time.
Adventure
Quite an interesting map from the series Find the Button in MCPE. It has one notable feature: additional secret buttons are hidden at some levels.
It is also recommended to invite friends to enjoy the experience.
Enchanted gardens
A scale map in Minecraft PE. This is a magical garden in which five secret buttons are hidden. It would be best if you found everything to go through.
There are several locations on the map: an abandoned house, a cliff, and a mushroom zone.
Random
On this map for MCPE, there are ten levels in the previous one. These are randomized levels whose complexity increases as they pass through.
To go through level 9, you have to collect four letters and create a word – the chemical element's name.
Food
Fast food lovers need to pass this map at Minecraft PE. It has various buildings, each of which resembles some food.
But don't look too hard at the candy because you have to concentrate on finding the buttons.
Is Crazy Craft Custom Terrain Structures MCPE Map large?

Where do I find the Mountains?

You can increase your render distance and see them for yourself.

Are there structures?

Yes, this version contains various constructions.
download anchor
Download Find Button for Minecraft PE