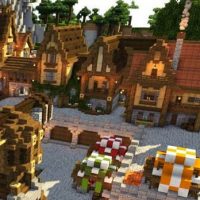 Village map for Minecraft PE
Version MCPE: 0.14.0 - 1.20.31
Download
Download Village Map for Minecraft PE: cozy village, the small mysterious village of the kurokuma syndicate, and huge medieval settlement!
Village map for MCPE
Village maps for Minecraft PE are viral because players are quickly harassed by typical small villages with relatively passive residents. The developers have done an excellent job, and so you are presented with a set of three maps with small and huge settlements.
You're going to explore a warm village, the Karokuma Syndicate, and even a huge medieval settlement!
Cozy Village
This map with a lovely warm village for MCPE will differ from the usual classical ones. It is surrounded by a giant fence protecting it from the outside world. However, attentive players may notice that the village is not very different from the standard one.
The main difference is the wall environment and lighting, represented by lamps instead of already tired torches and a vast number of planted trees. Also, the very convenient location of houses allows players and residents to move very freely between buildings.
Kurokuma Syndicate
This map for a village called Kurokuma Syndicate is remarkable for the state-of-the-art infrastructure available at the location. Bored users can find various shops, supermarkets, or even a separate amusement park.
It's a huge area, so you're going to need a lot of time and effort to explore it. However, the experience will be unforgettable because the addon for Minecraft Pocket Edition developers did a good job.
Medieval Village
Minecraft PE is the largest of all, represented and built by true enthusiasts. The exclusive feature of this area is that this giant village has its castle, fortifications, and even a separate bastion with towers.
The Middle Ages on this map are more like a small town with beautifully constructed wooden houses, fountains, and water bodies. Also, engaging users has a chance to discover underground mines and visit the public market in the village center.
What is the biggest village in the addons?

It's the Medieval Village.

Which village is the most picturesque?

It's the Kurokuma Syndicate.

Are there structures?

Yes, these modifications contain various constructions.
download anchor
Download Village map for Minecraft PE