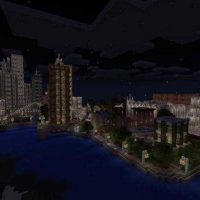 Town maps for Minecraft PE
Version MCPE: 0.14.0 - 1.20.31
Download
Download Town maps for Minecraft PE: explore big cities, survive the apocalypse and even visit the real New York!
Town maps for MCPE
Here you will see four different cities for Minecraft PE. Each is very different. In one, you're going to have to survive a bunch of zombies.
On the other, you're going to have to explore the construction itself in creative mode, and you're going to enjoy the scenery.
New-York
This town map for Minecraft on Android will help you see its attractions from home! Here you can walk inside buildings and look at the metropolis from a height!
New York City has many different houses, skyscrapers, buildings, bridges, and streets.
You can walk these beautiful streets without difficulty. The map was executed realistically, so all the buildings were saved. Its creator relied on live photographs of the city.
Zombie Town
There's a massive city on this map, with various buildings, homes, machines. They're all empty. The town is dead. There are a few survivors left.
But don't trust the others. Maybe they're zombies, too.
The city is destroyed. There is ivy on the walls of the houses. The task is to survive at all costs!
The Neighborhood
It is a huge city of Minecraft PE. Each building is different in size and architecture. One of them has a pool behind the fence, and the other one has a dog booth.
The city is so big. You don't have a chance to look at the whole thing. It will take an enormous amount of time to study each house thoroughly.
Mansions, private houses, villas, penthouses: all this you will find here!
Space Travel
You will appear on a spaceship alone but with artificial intelligence. You must perform various missions and quests. You'll have a compass to help with that.
The map of the space city is fascinating. You do missions, and you do research and many other things. An interesting story and gameplay accompany this.
How good is New York City in the addon?

It's done very realistic there.

Are there missions on any of the maps?

Space Travel has it's own missions.

Are there structures?

Yes, you can find many different structures.
download anchor
Download Town map for Minecraft PE