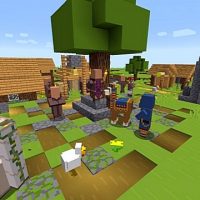 Bare Bones Texture Pack
Version MCPE: 1.13.0 - 1.20.31
Download
Download Bare Bones Texture Pack for Minecraft PE: Make your survival twice as rich with a new bright and juicy texture pack!
Bare Bones Texture Pack for MCPE
If you've been playing and surviving the Minecraft Pocket Edition for a long time, you probably know that the textures of the surrounding biomes haven't changed since the old versions.
This is why most players complain that the game seems rather unattractive and old, although its functionality is as good as some modern ones.
Enthusiasts from the world of custom modifications and textures decided to correct this situation and present to your attention the exclusive texture-pack Bare Bones. With it, any trip in the game will be an unforgettable fairy tale!
Features
The Minecraft Bedrock Edition has never been as bright and saturated as this version. According to the author of the texture pack, he worked long enough to produce such a qualitative picture in cubic biomes.
This is why his work has become very popular and is admired by many users from the MCPE community. You can see for yourself how beautiful it is by downloading it and simply walking along a plain or entering a cave – all filled with bright, juicy, and rich colors that make the atmosphere genuinely unforgettable.
The most important thing is that the author took care of the familiar Upper World and replaced the Nether. You can build a portal and go to hell to make sure of it. There, too, everything is much brighter, so even the Nether can be a colorful and fun place to live and survive with Bare Bones.

Recommendations
Because Minecraft PE has become so docile and bright, you can invite your friends to a photoshoot or make a short film.
It would be best if you almost used color correction because all colors fit well with any video or photo you choose to make.
Also, the author strongly advises that you fly over biomes – you'll be shocked by how great it's become with Bare Bones!

Can I survive with the texture pack in MCPE?

Can I use it on servers?

Yes, you are free to use it on public servers.

Have weapons chaged their textures?

Yes, they have been altered.
download anchor
Download Bare Bones Texture Pack for Minecraft PE