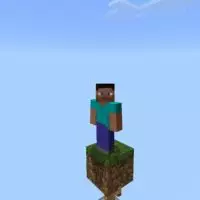 One Block Map for Minecraft PE
Version MCPE: 1.14.0 - 1.20.31
Download
Download One Block Map for Minecraft PE: try to survive in conditions of minimal resources and opportunities.
What is interesting in One Block Map?
The developers of One Block Map have created a unique adventure that has no analogs in Minecraft PE. The fact is that the hero appears on the playing field, and he has only one single piece of land under his feet. And nothing else around. It is as if he is floating in the sky, where there are no other objects.
The main task of this test will be to survive and reach the end in a situation where all resources and opportunities are available in very limited quantities.
Minimalism
In the literal sense of the word, the player on One Block Map has minimal resources. The hero appears on a field consisting of only one piece of land. But it also needs to be destroyed. This is necessary in order for new ones to appear.
In the future, more and more objects and objects will appear in Minecraft PE. It is worth noting that they will be different depending on the level at which the player is. For example, if a hero passes a forest test, he will receive trees or grass.
Lava and Hellstone will be available at the level dedicated to the Lower World. According to the same meaning, various mobs will appear.
In order to complete the test, users will need to kill the Dragon. To get to it, they need to go through the portal. To do this, players should stock up on the eye of the Ender in advance.
Islands
This test for One Block Map begins on a small island floating somewhere in the sky. The player will have to be content with very scarce resources.
But according to the idea of the developers, they should be enough for Minecraft PE users to cope. In order for the task to be completed, it is necessary to get to the diamond location.
To complicate the task, players can set the most difficult level of the game.
How to download One Block Map?

Tap the file and open it in Minecraft PE.

Can I use this map with my friends?

Yes, the map can be used for a multiplayer game.

Can i use the map in the survival mode?

Yes, the map is suitable for the survival mode.
download anchor
Download One Block Map for Minecraft PE