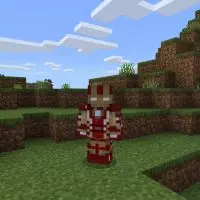 Iron Man Mod for Minecraft PE
Version MCPE: 1.0.0 - 1.20.32
Download
Download Iron Man Mod for Minecraft PE, and transform into your favorite superhero from the Marvel Universe!
Iron Man Mod for MCPE
In Minecraft PE, the player has a large number of different possibilities. But even this amount may not always be enough. In this case, a great solution is to install various modifications. For example, one such add-on is Super Heroes mods. With these modifications, the user can transform into their favorite superheroes, for example, Iron Man.
Infinity war
As the name suggests, the Infinity War mod for Minecraft PE is based on a movie of the same name. The author's main idea was to add most of the things from this universe to the game world of his favorite game. Among them, of course, Iron Man appeared.
In this modification, the texture of this superhero's armor replaces the texture of iron armor. At the same time, this thing does not carry any special functionality with it. One of the big advantages of this add-on is that it works on so many game versions.
Marvel armors
Unlike the previous one, Marvel Armors mod for Minecraft PE provides the player with the ability to craft armor, which turns him into Iron Man. First, you need to go down into the caves and dig up quite a bit of iron.
After that, it remains to make a workbench and craft a fabricator in the same workbench. This is a special block with which the player can get all the rest of the armor in this modification in Minecraft PE.
One of the main ingredients is red leather. Crafting this item requires two red blocks, four red mushrooms, regular leather, and two red dyes. All crafting recipes can be viewed in a special workbench.
Also, the Marvel Armors mod author provided the ability to get any item from the mod. The /give @s amber: command will help with this. It is also worth noting that in addition to Iron Mad, this modification also adds other superheroes.
How do I install this mod?

The file is in .mcaddon extension, so just tap on the file to automatically install the modification.

Can this mod be run in a multiplayer game?

Yes, for this it is enough just to be the owner of the card and install this modification on it.

What if the mod doesn't work?

Try to activate the experimental game mode.
download anchor
Download Iron Man Mod for Minecraft PE