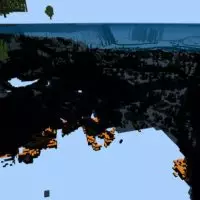 X-Ray Texture Pack for Minecraft PE
Version MCPE: 1.8.0 - 1.20.32
Download
Download X-Ray Texture Pack for Minecraft PE: find the right blocks with the super-ability to see through objects.
What is interesting in X-Ray Texture Pack?
Some superheroes have this ability – to see through objects, it can help a lot in exploring space. Now Minecraft PE players have such an opportunity.
With the X-Ray Texture Pack, the hero will be able to select the blocks that he would like to remove and use this to get to the necessary resources.
Main Features
This is a really very unusual addition to Minecraft PE. Players will have a choice of several modes, changing which they can change the surrounding space.
For example, the hero can choose the ability to recognize ores. This ability will allow you to find the largest deposits of gold, copper, or iron.
But the most frequently used skill in the X-Ray Texture Pack is the search for rare diamonds. Users just need to set a goal on the map and all the deposits of this resource will become available to the player.
At the same time, players should be careful, because if they remove all the blocks, the hero simply will not have a foothold and he will not be able to move.
During the creation of the world, users need to go to the update settings by clicking on the gear. In the menu that opens, there will be an opportunity to choose.
New features
X-Ray Texture Pack will replace regular blocks with transparent ones, so players will save several hours of play. Players no longer need to waste time on pointless digging in the ground, because the availability of valuable resources will be immediately visible.
Users can configure the list of blocks that will be visible in Minecraft PE. Thus, focusing on finding some specific resources.
Amazing and truly unique features are now available to every player with this update. Just download the file and enjoy the limitless possibilities.
How to install these textures?

Download and open it in Minecraft PE.

Can I use it on servers?

Yes, you are free to use it on public servers.

Can this texture pack be run in a multiplayer game?

Yes, for this it is enough just to be the owner of the card and install this modification on it.
download anchor
Download X-Ray Texture Pack for Minecraft PE