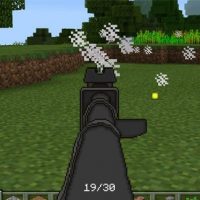 Gun mod for Minecraft PE
Version MCPE: 0.1.0 - 1.20.32
Download
Download Gun mod for Minecraft PE: add new colors to your survival, killing all aggressive mobs!
Gun mod for MCPE
Almost since the first version of Minecraft PE, there have been only two fighting tools. One is a sword, and the other is a bow. And only recently has a trident appeared.
However, with each new creature in the game, survival becomes harder, and weapons do not change. This is precisely what these modifications solve by adding many weapons, armor, and much more.
DesnoGuns
The popular DesnoGuns modification for MCPE. He adds weapons and armor, grenades, and even binoculars. You can find all these new items creatively in the inventory. The advantage of this addon of DesnoGun is its perfect optimization and practically no laggs.
Although mod is free, four weapons are unavailable, requiring a full version. Unfortunately, binoculars were among them.
It would be best if you understood that the mod has not been updated for a long time, so there may be glitches on newer versions of Minecraft PE. Here you can download the latest version of Desnoguns modification directly from the official website.
Lasers
This weapons addon adds three lasers to the game. Each has its features in the Minecraft Pocket Edition. For example, you can dig mines with a red laser gun. And an orange laser will help the player set things on fire.
Blue, in turn, will happily blow something up. Due to some features of this modification, you should squat for shooting.
Since the inventory does not contain these new items, it is recommended to issue everything using the command. After /give @s factorycraft is entered, a list of things appear.
Mad guns
In this Minecraft Bedrock Edition modification has implemented many mad weapons. The supplement introduces more than 25 guns that are suitable for survival. Both new swords and various cannons await you.
For example, the ice sword deals six damage and freezes opponents. The blowing cannon of desiccation fires the wearer's head, and the flaming baton sets fire to the enemies.
Is there an automatic weapon in the addon?

Yes, it is different types of guns.

How many lasers has the second modification for MCPE?

It is three: red, orange and blue.

How many guns in the Mad Guns addon?
Download Gun mod for Minecraft PE