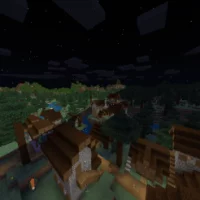 FullBright Texture Pack for Minecraft PE
Version MCPE: 1.14.0 - 1.20.32
Download
Download FullBright Texture Pack for Minecraft PE: Walk quietly for resources, and don't look into the dark with this texture pack!
Download FullBright Texture Pack for MCPE
Many players know that the environment in biomes in Minecraft Pocket Edition can be quite dim, and it is difficult to see in time the danger that faces you even with full brightness in the settings.
This is why modification developers saw it as an opportunity to help poor users. This is how you get this irreplaceable FullBright Texture Pack!
By installing it, you won't be able to play it the way you did before because life in cubic biomes will be vastly simpler!
Features
This version for Minecraft Bedrock Edition is indeed a breakthrough in the gameplay familiar to the entire cubic world. According to the author, you can completely forget about the torches, which were earlier indispensable in the night dangerous journeys on biomes.
Now this shader will make your survival permanent, safe, and bright. Most importantly, these textures do not conflict with other resources.
If earlier you were afraid to travel at night, being careful not to miss some dangerous mutant in the dark – now you can survive with a calm soul, because you will see almost anything limited only by the horizon that surrounds you.
Options for using
MCPE users often encountered the problem that the game's day passes in too short a time and that they have not built anything. Because the world around us is getting too dangerous, you have to spend a lot of time waiting at night in your house or a hastily constructed box.
Now there will be no problem because the skeleton behind the tree will no longer be a threat to you – you will see it before it.
You can build a house in the middle of the night on some plain, or with your head held high, go into a cave for ore that you don't have enough for craft armor or weapons.
Also, you can easily visit a nearby forest to chop wood without fear of another poisonous spider falling on top of the pitch-black.
Do I have to twist the brightness to its fullest?

No, you shouldn't with it.

Can I use it on servers?

Yes, you are free to use it on public servers.

Have weapons chaged their textures?

Yes, they have been altered.
download anchor
Download FullBright Texture Pack for Minecraft PE