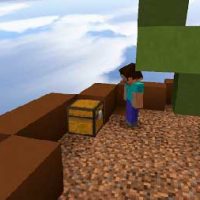 SkyWars map for Minecraft PE
Version MCPE: 1.0.0 - 1.20.32
Download
Download SkyWars map for Minecraft PE and fight your friends on flying islands!
SkyWars map for MCPE
The Sky Wars location is one of Minecraft PE's favorite game modes. The essence of this minigame is that each player will mate on their private island. He needs to get what he needs in a short amount of time and fight the rest. The winner is the last survivor.
The End
The End map for the Sky Wars game on Minecraft PE has islands reminiscent of End. Each player must occupy the island, after which it is necessary to agree on the time of the game and start fighting. The maximum number of possible players is 10.
There is a rather well-built center in the area and the islands. The first person to get in here can get some pretty valuable resources and increase their chances of winning.
Clock
Unlike the previous one, this map is based on Minecraft PE's command blocks. This means that the game in SkyWars will be automated, which significantly simplifies the play.
There are also six whales on this map. In case the user starts the game without choosing the initial set, the choice will be made at random.
The advantage of this location is that once the game is over, the map will recover.
Eight maps
One of the best maps to play at SkyWars at Minecraft PE. It has eight different maps that are automatically restored after the game is over.
Every user on the first visit will take a nap in the lobby. He needs to know the rules, then jumps into the portal and move into the glass room.
After that, the timer will start for 10 seconds. After the timer expires, players can start the game. Also on the map is protection against changing the game mode.
Lucky Blocks
This SkyWars map is distinguished by the presence of lacquer of blocks. Before starting the game, you will take one of the sets of weapons. To do this, you have to press one of the NPCs in the lobby.
There are lacquers of blocks and chest with randoms throughout the Minecraft PE location.
After each battle, the area is automatically rebuilt.
Is there map with lucky blocks?

What time given to players before start to prepare?

Where can I find lucky blocks?

It is random positions of the map.
download anchor
Download Sky Wars Map for Minecraft PE