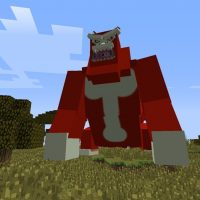 Naruto Mod for Minecraft PE
Version MCPE: 1.13.0 - 1.19.83
Download
Download the Naruto mod for Minecraft PE: get to know the most famous anime character of all time.
Naruto MCPE Mod Highlights
Naruto is perhaps the most popular manga series by Masashi Kishimoto. It tells the story of a ninja who wants to become his village leader, also called the Hokage.
Many Minecraft PE players have watched it multiple times and thence created numerous modifications, maps, addons, and texture packs related to Naruto.
Most of them have outstanding quality, denoting dangerous mobs, useful items, and new weapons. Generally, this sandbox survival has become way more thrilling to explore.
Weaponry
Naruto Shippuden Survival is the most splendid addon you can find on the Web. It introduces new mobs and items in Minecraft PE.
You'll need a scroll to summon these freshly-added objects. However, one has to use commands to get the scroll. Type /give @s nse:summon_scroll to get this ancient artefact.
Furthermore, there's a potent weapon called Hiramekarei. It deals more damage than a regular iron blade. Samehada not only hurts more than any other weapon but also catches animals' souls.
Shibuki sword explodes whenever an MCPE user attacks someone. It doesn't hurt its owner and thence can be used in a melee fight.
Generally speaking, there are more than two dozens unique weapons to defeat your brand-new enemies.
Gameplay
Notwithstanding, this Minecraft PE addon also changes some fundamental aspects adding new realistic animations.
On the other hand, every time you kill any Naruto characters, you'll see corpses all around the field. They do not despawn and disappear, reminding about the death's real face.
Talking about mobs, players will encounter quite a lot of them. Some will attack fearlessly, but others might want to become your ally.
This MCPE mod evidently features Naruto himself. He is neutral, meaning he shall not strike you, but one must not provoke him.
Where do I find Naruto in Naruto MCPE Mod?

He spawns in the Overworld.

Does Naruto attack other mobs?

Where do I encounter Naruto's enemies?
Download Naruto Mod for Minecraft PE