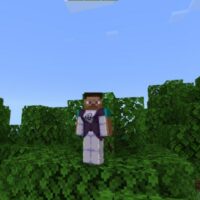 Invincible Mod for Minecraft PE
Version MCPE: 1.18.0 - 1.20.15
Download
Download Invincible Mod for Minecraft PE: learn how to use various attacks to defeat any opponents, as well as try on unusual images.
Invincible Mod for Minecraft Bedrock Edition
This Invincible Mod update offers Minecraft PE players to get their hands on unique costumes. Wearing any of them, the hero will become the strongest, most resilient, and even learn to fly.
This will allow you to defeat any opponents in the cubic world. It is worth noting that all the equipment and new mobs are based on famous comics and will appeal to their fans and fans of this genre in general.
How to get costumes
The first thing a player who has installed Invincible Mod should do is create a special computer. With it, you can get any of the costumes. When the device is ready, go in search of mobs and be sure to defeat them.
This is the only way to get special coins. Without them, it is impossible to get a costume in Minecraft Bedrock Edition.
Costume Features
Each of the costumes has unique properties, for example, the Omni-man gives super speed, the Eva Atom will allow you to learn to fly, and the Monster Girl will jump high.
The easiest way to get any of them in Minecraft PE is available to those players who, when installing Invincible Mod, choose the Creative mode. In this case, all options will be available in the Inventory.
Dangers
Along with the new costume options, new enemies will appear in Minecraft PE. Invincible Mod provides for the appearance of two new mobs. These are Bandits – they look like people with different masks on their faces, armed with different batons and other objects.
Also, after installing this update, players will meet the Mauler Twins on their way. These creatures with blue skin always appear in pairs and have incredible strength. Fight them and try out all the new features and features right now.
How do I install this Invincible mod?

The file is in .mcaddon extension, so just tap on the file to automatically install the modification.

Can this mod be run in a multiplayer game?

Yes, for this it is enough just to be the owner of the map and install this modification on it.

What if the mod does not work?

Try to activate the experimental game mode.
download anchor
Download Invincible Mod for Minecraft PE