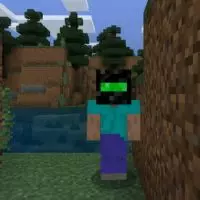 Night Vision Texture Pack for Minecraft PE
Version MCPE: 1.4.0 - 1.20.15
Download
Download Night Vision Texture Pack for Minecraft PE: get the opportunity to see everything around even at night.
What is interesting in Night Vision Texture Pack?
At night, the world of Minecraft PE is filled with creepy sounds, zombies, huge spiders, and other monsters roam everywhere. But even if there is no one nearby, the fear that someone might hide in the dark does not leave the hero.
This problem can be easily dealt with install the Night Vision Texture Pack. This update will allow users to easily see in the dark, not be afraid for their life, and continue a comfortable existence in the game space even at night.
Goggles
Many spies in the movies have special glasses or helmets that allow them to see in the dark. Now Minecraft PE users also have this opportunity. With this update for the Night Vision Texture Pack, the hero will have a real helmet to see in the dark.
To take advantage of the effect, the hero needs to put a pumpkin on his head, the appearance of which has changed a lot. Now it looks like a cool black device with a green stripe.
By the way, players can invite friends to appreciate this cool image and play a spy story together.
New features
Now players can forget about using lanterns, lighting, or various potions that help to see at night. With Night Vision Texture Pack, even at night, the player will be able to see all objects and mobs as well as during the day.
At the same time, the sky also remains quite dark and stars are visible in it. The hero himself and the mobs will be darker than during the day.
Only the visual component in Minecraft PE will change. It looks as if the player has got supervision and now he can see at night without any devices.
This feature is especially useful if the player is underground. Players no longer need to be afraid of the dark or install lighting, they just need to install this update and enjoy the gameplay.
How to install these textures?

Download and open it in Minecraft PE.

Can I use it on servers?

Yes, you are free to use it on public servers.

Can this texture pack be run in a multiplayer game?

Yes, for this it is enough just to be the owner of the card and install this modification on it.
download anchor
Download Night Vision Texture Pack for Minecraft PE