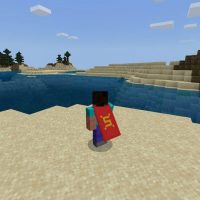 Superman Mod for Minecraft PE
Version MCPE: 1.0.0 - 1.19.83
Download
Download Superman Mod for Minecraft PE, and conquer your enemies with the power of superheroes!
Superman Mod for MCPE
As you know, there are many different hostile creatures in Minecraft PE. The player has to fight with them during survival, and sometimes it can be not easy. Set as a superhero, the user will no longer have to worry about this problem. He will quickly kill a hostile mob of any difficulty. This can be done using special modifications.
Marvel craft
The most significant advantage of this Superman mod for Minecraft PE is that it works on almost all game versions. There are no new items here. This means that the author has replaced the textures and functionality of the items already in the game. For example, the player can detect an iron man or a spiderman instead of the usual armor. Also, in the modification, there are pretty powerful weapons:
Name
Description
Iron Man's Gauntlet (Bow)
It fires a laser that causes an explosion on impact.
Captain America's Shield (Fishing Rod)
Kills most mobs with just one shot.
Thor's Hammer Mjolnir (Snowball)
On impact, causes lightning in Minecraft PE.
Hawkeye's Bow (Bottle 'o Enchanting)
Causes

a rather powerful explosion

.
Black Widow's Gun (Egg)
It is a less accurate weapon, causing an explosion on impact.
Spiderman's Webshooter (Ender Pearl)
Teleports the player to the spot where the web hits and kills many with a mob at a time.
Deadpool's Katana (Iron Sword)
A standard melee weapon.
It is worth noting that in the parentheses are the items that have been replaced.
Superman
There are new items in this Superman mod. First of all, it is worth noting Superman Ability, which replaces the elytra. When you take it in your hands, the player gets real superpowers: fast running and high jump.
Also worth noting is the presence of a cape and eyes that shoot a laser. The last two items can be crafted, and Superman's Ability is obtained the same way as elytra.
How do I install this mod?

The file is in .mcaddon extension, so just tap on the file to automatically install the modification.

Can this mod be run in a multiplayer game?

Yes, for this it is enough just to be the owner of the card and install this modification on it.

What if the mod doesn't work?

Try to activate the experimental game mode.
Download Superman Mod for Minecraft PE