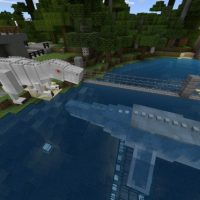 Jurassic World map for Minecraft PE
Version MCPE: 1.0.0 - 1.20.31
Download
Download Jurassic World map for Minecraft PE: walk through a park full of dinosaurs of different species and try not to be afraid!
Jurassic World map for MCPE
You will be able to test the «Jurassic Craft World» card for Minecraft Pocket Edition, which will allow you to explore an entire park filled with 19 different dinosaurs! It is a well-thought-out map that leaves no one indifferent!
Park
After spacing on this map for Minecraft Pocket Edison, you will find yourself on the edge of the map, inside a superb hotel.
If you want to walk through the park and see all the buildings, you will have to go out and take a walk, but it won't take long, because there will be a real jeep waiting for you near the hotel, which will speed up your journey very much!
Use the key, which is the replacement of carrots on a fishing rod, to control the car's direction.
The park is enormous, so if you want to know where to go after the spa, look at this map.
Dinosaurs
Here you will find 19 different dinosaurs, each with its behavior and features in the Minecraft PE world. I think it'll take you at least a few hours to study each species. 
Brachiosaurus is the most fantastic dinosaur you'll ever meet because it's enormous! Fortunately, it will not harm you in any way since you are separated by a huge fence that has been electrified with 10,000 volts. 
You will find many different dinosaurs throughout the park that will surprise you. A fence separated most dinosaurs.
It's also like to mention T-Rex and Spinosaurus, some of the largest dinosaurs that can also be the most dangerous. Fortunately, they can be tamed, but let's leave that option to the MCPE park guards.
Aquatic reptiles
Also, in the park, you will find several water reptiles that have been hidden underwater because otherwise, they would not have survived.
Also, massive tunnels were built underwater, allowing you to walk with them.
What dinosaurs are on this map in MCPE?

There are Brachiosaurus, T-Rex, Spinosaurus and others!

How can I travel through the park?

You can travel by car or go walking.

Are there structures?

Yes, this version contains various constructions.
download anchor
Download Jurassic World map for Minecraft PE