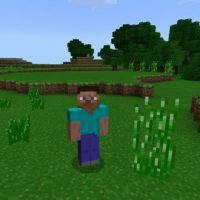 Old Texture Pack for Minecraft PE
Version MCPE: 1.12.0 - 1.20.32
Download
Download Old Texture Pack for Minecraft PE: feel nostalgia, returning to the old look of the cubic world.
What is interesting in Old Texture Pack?
Updates in the game are created in order to make the gameplay more convenient and interesting. At the same time, changes may not always appeal to all players.
By the way, some users sometimes want to go back in time and see what the world of Minecraft PE looked like before. It is for such cases that the Old Texture Pack was created. In it, the developers tried to recreate the appearance of the cubic world, which was in earlier versions.
The hero can try on leather armor, which looks a little different from modern. Also, many blocks and plants have changed, and some have been removed from the game altogether.
Old World
This update brings players back to the cubic world that was before version 0.7.0. For experienced players, this will be a kind of journey into the past.  And for those who play Minecraft PE relatively recently, there will be something to be surprised about.
The developers of the Old Texture Pack not only returned the previous appearance and graphics but also added the old sound effects. They really sound a lot different than modern ones. It is very interesting.
Players can try on the leather armor of the previous model, as well as find cyanide roses. These blue flowers can be seen everywhere. But not only objects, food, and water have regained their former appearance, but the menu and interface of the cubic world have also changed.
Nostalgia
All players who miss the interface of versions 0.11.0-0.14.0 will like this update for the Old Texture Pack. It contains all the most memorable moments of former times. For example, the menu, interface, and even Inventory.
This is a great way to go back in time and enjoy the forgotten look of Minecraft PE. Changes are, of course, always good, but sometimes you want to go back to the roots.
How to install these Old Texture Pack?

Download and open it in Minecraft PE.

Can I use it on servers?

Yes, you are free to use it on public servers.

Can this texture pack be run in a multiplayer game?

Yes, for this it is enough just to be the owner of the card and install this modification on it.
Download Old Texture Pack for Minecraft PE