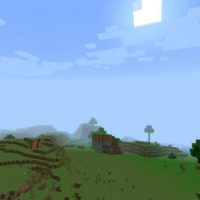 High Res Texture Pack for Minecraft PE
Version MCPE: 1.16.0 - 1.19.83
Download
Download High Res Texture Pack for Minecraft PE: the most advanced features in improving graphics, including an updated look of blocks, objects, and mobs.
What is interesting in the High Res Texture Pack?
It is quite easy to transform the surrounding space. As a rule, it is enough to add realism to the blocks and objects surrounding the player. High Res Texture Pack perfectly copes with this task and players can safely start exploring a completely different world.
This update will make Minecraft PE surprisingly interesting, and the time spent in the game will be unforgettable. It is worth noting that with the help of improved animation of the movement of the players and mobs, the impression of a completely natural environment is created.
3D
Update the look of blocks and items using this update for the High Res Texture Pack. Players will be able to enjoy the improved picture, to which the authors have added volume and 3D effect.
Now the exploration of Minecraft PE will become even more interesting because, in such a space, any journey becomes an incredible adventure.
Default Touch Up
This update for the High Res Texture Pack adds more realism to almost all mobs that players can meet on the expanses of Minecraft PE. Now the animals will have eye animation, as well as more natural walking effects.
The style and movements of the hero himself also received some changes, for example, during fishing or other activities.
Simplista
This addition to the High Res Texture Pack will allow you to improve the appearance of the blocks. They will get rid of unnecessary noise. It is worth noting that the graphics in Minecraft PE will meet the most modern standards, which will make the cubic world incredibly colorful and interesting.
Use all the best features to make the gameplay unforgettable and interesting.
What if the High Res Texture Pack does not work?

Try to activate the experimental game mode.

Can I use it on servers?

Yes, you are free to use it on public servers.

How do I install this texture pack?

The file is in .mcpack extension, so just tap on the file to automatically install the modification.
Download High Res Texture Pack for Minecraft PE