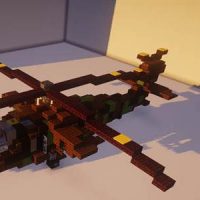 Helicopter mods for Minecraft PE
Version MCPE: 0.14.0 - 1.20.32
Download
Download Helicopter Mod for Minecraft PE: players can fly in transport helicopters that will take them anywhere.
Helicopter mod for MCPE
Many variants for the Minecraft PE add various helicopters, but most are military-related. It means, big helicopters will be combat helicopters. There are, obviously, civilian helicopters that can bring you on any place of the cubic world.
Black Hawk
This addon in Minecraft Bedrock Edison translates as "Black Hawk." As you can tell from the fearsome name, this addon is military. That means no more moss is scary to you because a helicopter attacks all the creatures within a radius of 16 blocks.
Note that the helicopter in Minecraft PE is a replacement for the sweaty. Finding it in survival mode will only be possible in the Nether World.
By the way, one of the most valuable features of this device is that you can put something in a helicopter. So it also serves as a container.
Helicopter
This addon for Minecraft PE also adds a military helicopter. By the way, it also replaces the sweaty in the Lower World. To control it, however, you need a diamond sword.
So without taking a sword made of precious diamonds in your hand, you can't control the flight of this car. And the helicopter has a great design. It is unique, though a bit simple: it is painted dark black, and when flying, it emits effects of fire in Minecraft PE.
Civilian helicopters
This modification for Minecraft PE adds not just one helicopter but a whole set to the game. The users of the CIE will have the opportunity to fly in different types.
Note that they do not have any firepower, and they are single and have a variety of colors. There are blue, red, green and so on. To fly a helicopter to MCPE, you will need a piece of coal.
It will give you 75 seconds to fly. It's a small problem because it's not hard to find coal in the game.
How can I fly a helicopter?

You need a piece of coal that gives you 75 seconds to fly.

What do replace a texture of helicopter?

Where can I get all these helicopters?

You may craft or find them.
download anchor
Download Helicopter Mod for Minecraft PE