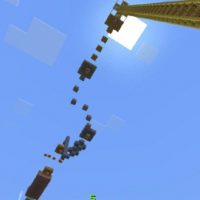 Unlimited Parkour Map for Minecraft PE
Version MCPE: 1.14.0 - 1.20.15
Download
Download Unlimited Parkour Map for Minecraft PE: go through different levels of exciting challenges that take place at high altitudes and show all your abilities.
What is interesting in Unlimited Parkour Map?
There are no limits and restrictions, but only the goal to reach the end is present on the Unlimited Parkour Map. Now every Minecraft PE player alone or together with friends can show all their abilities and have great fun.
The authors have prepared a lot of interesting tests, each of which will allow you to get a unique gaming experience and make your stay in the cubic world truly unforgettable and very interesting.
Infinite
This time, the creators of Unlimited Parkour Map did not set any time interval during which it is necessary to pass all the tests. Minecraft PE players can spend as much time on each level as it takes.
It is worth noting that each time after the successful completion of the stage, the next one will be even more difficult. This will allow you to practice the art of parkour perfectly and show all your skills directly in real conditions.
Each of the stages has its theme and is also suitable for multiplayer mode. Therefore, players can invite an unlimited number of their friends and have fun together in their favorite game.
Unlimited
This location for Unlimited Parkour Map has a really large number of interesting and diverse levels. There are 50 of them this time. Moreover, the author has made them diverse and along the way, it will be possible to meet cobwebs, lava, and portals.
As soon as the Minecraft PE hero is at the starting point, a high staircase appears in front of him. It will be necessary to climb up on it to start completing tasks. It is worth paying attention to the information that is posted on the signs to have an idea of what tests are waiting for the players.
How to download Unlimited Parkour Map?

Tap the file and open it in Minecraft PE.

Can I use this map with my friends?

Yes, the map can be used for a multiplayer game.

Can i use the map in the survival mode?

Yes, the map is suitable for the survival mode.
download anchor
Download Unlimited Parkour Map for Minecraft PE