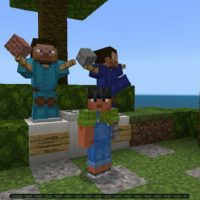 Spiral Parkour Map for Minecraft PE
Version MCPE: 1.16.0 - 1.20.15
Download
Download Spiral Parkour Map for Minecraft PE: show the agility and ingenuity that you will need to get to the top and get the grand prize.
What is interesting in Spiral Parkour Map?
Many Minecraft PE users prefer parkour-style challenges. Indeed, this option is perfect for the cubic world, because it consists entirely of blocks.
It is convenient to jump on them, overcoming obstacles. On Spiral Parkour Map, the main task of the players will be to get to the very top. But to do this, you will have to go through several very dangerous and difficult levels, only the most dexterous players can do this.
Tower
All three updates for Spiral Parkour Map are similar to each other, but they also have unique and interesting features. Not every Minecraft PE hero will be able to cope with the tests that the author of this supplement has prepared.
There are not many details and attributes inside the tower, but at the same time, its passage will also be fascinating. Many levels will allow the heroes to show all their skills in parkour.
Ascend the Spire
This building, which was created by the authors of Spiral Parkour Map at this location, is one of the highest in the history of Minecraft PE.
As in other cases, it is always necessary to move upwards, in a spiral, and try not to fall into a bottomless abyss.
Spiral Parkour
This time, the author of Spiral Parkour Map thought through all the nuances so that Minecraft PE users would be interested in passing the test strip. There are save points here that will allow you not to start the whole path over again in case of failure.
In the design, the creator used elements that are found in various biomes of the cubic world. In general, it is worth noting that many unusual discoveries are waiting for players on this map.
A very generous reward will be waiting for the heroes who have reached the finish line.
How to download Spiral Parkour Map?

Tap the file and open it in Minecraft PE.

Can I use this map with my friends?

Yes, the map can be used for a multiplayer game.

Can i use the map in the survival mode?

Yes, the map is suitable for the survival mode.
download anchor
Download Spiral Parkour Map for Minecraft PE