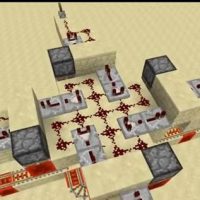 Redstone mod for Minecraft PE
Version MCPE: 0.8.0 - 1.20.32
Download
Download Redstone mod for Minecraft PE: start building mechanisms out of red stone or creating monsters ready to side with you.
Redstone mod for MCPE
Redstone at Minecraft PE has been added relatively long ago, but not on older versions. Some modifications remedy this situation.
Other modifications to buildings are designed to add new creatures made of red stone to the game.
Red stone
This addon are only relevant for those versions of Minecraft Bedrock Edison where there are no Redstone items. This mod is intended to remedy the situation by explicitly adding objects such as red dust or a sticky piston.
The Minecraft Bedrock Edition finally uses the lamps as a light source. You can activate them with red stone torches or a Redstone block that supports the signal endlessly.
The lever and pressure plate with the button can also help in this.
Art from Redstone
This MCPE modification is perfect for those who want its mechanisms to come to life and start walking. The thing is, she adds a lot of mobs. For example, a distribution robot shoots many shells: arrows, snowballs, or fireballs.
Note that it replaces the crypto but neutrally treats players. Yet it hates all the other mobs, even peaceful ones.
The flying chair in the Minecraft PE allows players to float above the ground. This entity replaces the zombie living in the desert. By the way, a robot observer will appear in the game. It replaces the iron golem but will still protect you from enemies.
Quarry
This addon for Minecraft Pocket Edition differs from others in that it introduces a real automatic career into the game. This structure will assemble a large number of items in no time.
If you put it next to the chest, you'll have to mark the boundaries. After that, a nearby container will collect whatever the quarry gets at Minecraft PE.
Over time, the chest will be filled with various materials. Therefore, it is necessary to collect and transport them from time to time.
Is there are some mobs on these addons for Minecraft PE?

Yes, it's a few creations in the second addon.

How many innovations can I do?

Pretty more than standart version of MCPE allows.

Where can I get these items?

You may craft or find them.
download anchor
Download Redstone mod for Minecraft PE