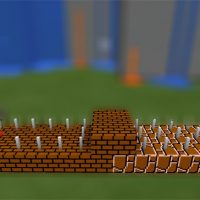 Mario Mod for Minecraft PE
Version MCPE: 1.12.0 - 1.19.83
Download
Download Super Mario Mod for Minecraft PE: play the famous and legendary game inside the cubic world!
Super Mario Mod for MCPE
Super Mario is a game where a mustached man in a plumbing suit runs through obstacles, encountering all sorts of creatures who can kill him. His main goal is to save the princess.
No player does not know the famous game – Super Mario. Because of the number of fans of the game, the designers decided to add the opportunity to play it directly from the cubic world of Minecraft Bedrock Edition.
Features
Since the game is quite old, classical, the developers decided to perform it in the same classical style, not to lose the legendary and unique atmosphere. It is claimed that the goal was to completely transfer the theme of this very Super Mario Land for Game Boy directly within the Minecraft Pocket Edition.
By creating a particular card, you can easily invite friends there and compete to pass a certain level better and quicker. It is worth saying that the variety to be creative in creating levels is big enough, so you don't have to be bored.
Blocks
In addition to developing textures and the surrounding world, there are 15 unusual blocks in the game that you can use to create your levels. Nine of these blocks can be used exclusively for decorative purposes. The remaining six blocks are added for particular tasks on the map for MCPE.
For example, the Redstone block is for finishing the level, and the Emerald block is for starting the level.
Block Tasks
When you start building your level, you need to know about each block of important information – what it's responsible for. Redstone and Emerald's block are responsible for starting and finishing the level as stated above.
There are also other interesting features. The golden block allows you to hit your head with one penny, which will fall at your feet in Minecraft PE
The mushroom block throws you up a whole six blocks. Checkpoint Flag Block allows you to save. Be careful with Spike – you fall back to the beginning or Checkpoint!
Is the block drop coins in the addon in Minecraft PE?

Can I create levels in the modification for MCPE?

Where can I get these items?

You may craft or find them.
Download Mario Mod for Minecraft PE