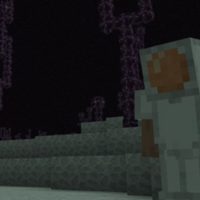 Space mods for Minecraf PE
Version MCPE: 0.14.0 - 1.20.31
Download
Download Space mod for Minecraft PE: explore areas beyond our planet.
Space mod for MCPE
Although there are several exciting worlds in Minecraft PE, users still lack something. That's why they created survival mods that add new worlds to the sandbox.
Moreover, in addition to the dimensions themselves, players can count on new blocks, biomes, locations, items, and even mobs. There will be real rockets in the game that the way can use.
In general, Minecraft PE has become much more exciting and diverse.
Real Space
The developers at Mojang Studios had already announced long ago that space content would not be in the MCPE game. For this reason, one player decided to add it himself. Now everyone can become a real astronaut. And it would be easy to do that.
And what's more, even leather armor in this game is starting to look different. It turns out they've become a kind of suit. They're white. Moreover, each object of this set has an individual effect.
Rocket
Even a Minecraft PE cannot go into space without a rocket, which means adding it to the sandbox for survival is not surprising. The players have to create it. It's not hard to do it, but it's not easy to say.
This works not as a portal but as a natural mode of transport. That is, you can control it yourself. For example, use a carrot rod to control a missile.
The rocket at Minecraft PE is incredibly fast, so you can quickly fly through all the worlds of the game. By the way, you can also find a suit here. This time it replaces the ringed armor.
Moon
But in addition to transportation, there's also a place to go. Even in the vanilla version, the closest thing to it is the End. It's space developer for Minecraft Pocket Edition did it.
Now the surface looks like moonlit ground, and a spacesuit was added to the game. By the way, it gives you the ability to breathe underwater, not to be afraid of falling from a height, and also increases speed and health.
Can I fly on a real rocket?

Yes, you can with the last addon.

How can I control the point of a rocket?

You can do this with a carrot rod.

Where can I get all these items?

You may craft or find them.
download anchor
Download Space mod for Minecraft PE