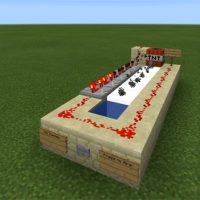 PocketPower Mod for Minecraft PE
Version MCPE: 0.11.0 - 1.20.31
Download
Download Pocketpower Mod for Minecraft PE: Use Redstone where you need it at any moment of your survival in the cubic world!
PocketPower Mod for MCPE
All players in Minecraft Bedrock Edition know how exciting things can be created in the cubic world using the existing mechanical system. Many enthusiasts created whole manufactures using a design created by developers from Mojang Studio.
But many players have long claimed that even the considerable potential that exists is not enough for them. This is why developers of addons had to make an effort to release this viral modification called PocketPower.
You may call all your friends and try to build substantial intelligent mechanisms together!
Features
As stated by the developer, this modification took a very long time as it was very voluminous and informative. Besides, it can run in users not only on Android but even on a system like IOS in Minecraft PE.
This modification will allow you to remove Redstone dust from your pocket at any time you need it. First, we need to make it clear that Redstone is the kind of thing that can transfer energy from one point to another, thereby triggering different technologies that you've built or even automating them.
You can use levers and stoves and so on.
Structures for Example
It is also important to note that several new and exciting things have been added to the game that you can use. However, this will require a creative mode to find them in your inventory.
You can also look at the simple mechanisms you can create with this modification. You need to build a rectangular structure inside to leave a space to fill with dynamite. Lay the dust of Redstone and the transmitters on the sides.
These have to be linked together to make a signal and light the dust. Then press the button and press. The dynamite on the perimeter will explode in Minecraft Bedrock Edition.
Can I use Redstone in any place I want to?

What is Redstone?

Redstone is the kind of thing that can transfer energy from one point to another.

Where can I get these items?

You may find them in your inventory any time.
download anchor
Download PocketPower Mod for Minecraft PE