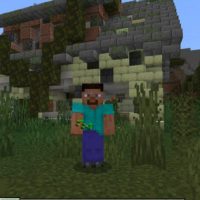 Abandoned House Mod for Minecraft PE
Version MCPE: 1.19.0 - 1.20.15
Download
Download Abandoned House Mod for Minecraft PE: explore buildings that were abandoned by their former inhabitants, but at the same time left a lot of interesting and useful things.
What is interesting in Abandoned House Mod?
There are not many buildings in the Minecraft PE world, most buildings are found in or near villages, and you can also find a hut in the swamps. In some biomes there are abandoned buildings, it was their number that the authors of Abandoned House Mod decided to diversify.
It will be interesting for players to find all new structures, and look for mysterious things in them. By the way, their appearance on the territory of the cubic world is accidental, so it is impossible to know in advance the point at which they will arise.
 Structures
Almost every biome of Minecraft PE will have something new and unique. For example, in deserts, it will be various houses, chapels, and ruins. By the way, the latter can be found underwater.
Walking through the jungle, you can meet pyramids, as well as a hobbit house. And on the plains, there will be buildings covered with cobwebs and swamps. Unusual structures will also appear in the underground world, so visits to these locations are mandatory for every player.
Abandoned House Mod will allow you to take a completely new look at the gameplay in the cubic world and forget about everything else.
Houses
Immediately five different structures will appear in Minecraft PE after installing the Abandoned House Mod. Each of them has an interior by which players can judge the previous owners.
It is worth noting that inside you can find chests with real treasures. Inside each of the buildings, there are also some furniture and useful items. All this will make the research process even more exciting.
You can meet such buildings on all the territories of the cubic world. It will be impossible to predict the location of any of them in any way.
How do I install this mod?

The file is in .mcaddon extension, so just tap on the file to automatically install the modification.

Can this mod be run in a multiplayer game?

Yes, for this it is enough just to be the owner of the map and install this modification on it.

What if the mod does not work?

Try to activate the experimental game mode.
download anchor
Download Abandoned House Mod for Minecraft PE