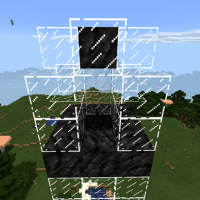 Elevator mod for Minecraft PE
Version MCPE: 0.8.0 - 1.20.31
Download
Download an Elevator mod for Minecraft PE: these addons are especially suitable for those who don't want to bother with stairs.
Elevator mod for MCPE
The elevator is a unique device that allows Minecraft PE players to high to a certain height quickly.
They are most often found in shopping malls. This modification also available in the earliest versions of Minecraft Pocket Edition.
Block
This is very old but still in use, probably familiar to many people. It works very quickly. You create a block of the elevator: it is made of 1 bar of iron and eight wool blocks.
You place one block on one floor, and the other one on precisely above or below it, but on another floor. Now stand on this very block and to get down, press a special button on the screen or jump. The jump will take you to the next floor.
The modification is very simple but gives unlimited possibilities.
Candia elevator
Like the previous version, this addon also adds special blocks to the game. With them, you can easily climb up and down to different floors. It works almost as well as above.
To start, you have to create the block itself. The craft is inexpensive: just three iron bars, one bar of gold, and two red stones. This is the object that you will need to place in the base of your elevator. But that's not all. There is also a block that limits the height of the rise.
It will require the extraction of 1 red stone and eight stone blocks. It looks like a brick in itself. There you will be told everything in detail and clearly.
Ender-elevator
EnderBlock Elevator adds a new block to Minecraft, whose properties are almost identical to those of the elevator. To make the End block system work, you have to put one block up and one block down. The distance can be any.
The main thing is that the blocks have a different type, that is, the top is top, and the bottom is lower. To create End blocks, you need to combine quartz and End pearls in a craft.
Does this modification work on earlier versions of Minecraft PE?

How can i craft the elevator in MCPE?

You should have three iron bars, one bar of gold, and two red stones to craft.

Where can I get these items?

You may craft or find them.
download anchor
Download Elevator mod for Minecraft PE