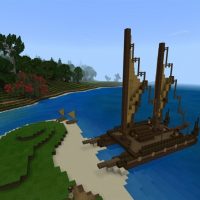 Boat Mod for Minecraft PE
Version MCPE: 0.14.0 - 1.20.31
Download
Download the Boat mod for Minecraft PE: more vehicles are now available to use.
Boat MCPE Mod Highlights
Minecraft Bedrock Edition had only one boat type before introducing various designs of this vehicle. However, we have only oak, spruce, birch, tropical, and acacia boats for the time being.
And this is definitely not enough for many users who adore open seas and oceans of the Overworld. Therefore addon creators have dedicated their time working on countless Boat mods, adding yachts, cruises, and more.
Generally, Minecraft shall become more marine than ever before since its exploration got more exciting and thrilling.
Civilian Boats
This MCPE map presents a variety of ships you can build and utilize in your survival worlds. However, you have to develop them first.
Luckily for all water fans, it does not take a lot of materials to assemble. According to the authors, they have attempted to implement as many types as possible.
Consequently, there are three ships, each of which has a unique design, a plethora of capabilities, and most importantly, the ability to swim faster than regular boats.
Nonetheless, this Minecraft addon has a few flaws too. Firstly, it replaces old mobs instead of adding new ones. It means you will have to find some specific creatures, then use a leash on them, and bring them back to the water.
Gladly, they are no longer hostile, denoting there is no need to fear. Minecraft PE vindicators, ghasts, and creepers have turned into modern boats.
Pirates
Cruising all the five oceans might seem thrilling and miraculous, but there is always someone who would like to ruin your experience.
Pirates are the menace of the sees, and they appeared in Minecraft. These filthy and dishonorable men and women unfairly capture sailors and ships.
Pirates have replaced existing mobs making this sandbox survival a dangerous place once again./p>
If you combine boat and pirate mods, your game shall turn into a marine paradise.
How do I get these boats in Boat MCPE Mod?

Are these trains convenient?

Yes, they are swift enough.

Do they need fuel?

No, you do not need fuel for them.
download anchor
Download Boat Mod for Minecraft PE