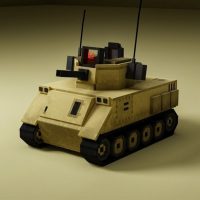 Tank Mod for Minecraft PE
Version MCPE: 0.14.0 - 1.20.32
Download
Download the Tank mod for Minecraft PE: a massive military vehicle capable of destroying anything on its way.

Tank MCPE Mod Highlights
Minecraft Bedrock Edition has no weapons of massive destruction whatsoever. The new only weaponry you have is swords, bows, shields, and potions with tridents.
Hence many barbarian and warlike users craved new tools to break out a neverending war everyone would remember.
Opportunely to these bellicose players, Minecraft's community has assembled hundreds of modifications adding new weapons, including tanks.
This moving piece of iron and steel attracts many with its ability to destroy and conquer. First appeared during World War One, tanks have become increasingly popular thenceforth.
Even Minecraft PE now has a few of these disruptive cars, thanks to multiple addons from the Web.
BM Tank
This MCPE addon presents two different tanks that can demolish the entire village in no time. Unfortunately for copious traders, raiders got one too.
It seems every time raiders appear in the world, they get a tank in addition. Besides, one tank spawns throughout the raid and can cause infinite suffering and issues.
It has its own intelligence and thence acts individually and independently: no raider drives the Minecraft PE tank.
Moreover, this tank is capable of dealing with multiple iron golems at a time. Notwithstanding, players, too, have a tank on their side.
Tanks
Although both of these machines may look similar, they actually differ. You can mount one and use it on the battlefield.
Furthermore, Minecraft users are free to apply this transport as a carry-on since it has a place to store their belongings.
This tank is not the swiftest one but protects its owner greatly: you can survive ghast fireballs and other explosions inside this steel war car.
Small Tank
On the other hand, this Minecraft PE addon features a small tank. One has to make one first. It is made of various parts: generally, you will need a lot of leather, iron ingots, and Redstone.
Afterward, no one shall doubt your supremacy. Yet, you'll need some fuel to power it up.
How do I get a tank in Tank MCPE Mod?

You can spawn these using commands.

How many tanks spawn during a raid?

Usually, there are 2-3 tanks.

Are tanks powerful?

Yes, they can destroy things easily.
download anchor
Download Tank Mod for Minecraft PE