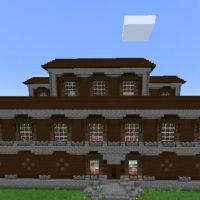 Mansion Map for Minecraft PE
Version MCPE: 1.2.0 - 1.20.31
Download
Download Mansion Map for Minecraft PE and find the best house for your game world!
Best Mansion Maps for MCPE
There are a lot of different maps with houses for Minecraft PE. Players can choose the size and design which they like. Sometimes it is not enough, and users are looking for a bigger building. Mansion maps are perfect in such a case!
Redstone Mansion
The map for Minecraft PE offers users a large mansion with a system of mechanisms. All of them work with the help of Redstone. For example, there is an elevator in the house. So you can live with comfort here.
There is beautiful nature in the territory near the mansion. The building has many windows with nice views.
This map has many rooms, all the necessary furniture for comfortable living.
Villa
Players who are looking for a big building in a nice place will like this mansion map for Minecraft PE. The developer created a password system for the entrance to the territory.
There is a nice ocean view around the house, and the territory is more than large. So Steve can live here and explore beautiful landscapes nearby.
Additional details
There are some additional advantages of this Minecraft PE mansion map. First of all, you can get many types of transport. For example, a personal helicopter.
By the way, there are several yachts that players can use near the ocean.
Stone Mansion
It is one of the best variants of the mansion maps for Minecraft PE. There are several reasons why it is worth living in. Players do not need to look for furniture or decorative elements for their new home: all this stuff is already there.
By the way, the interior includes even a fireplace and nice posters on the walls.
To explore all the mansion, you can use stairs and go to the next floor. There are a lot of windows on the second floor, so Steve can enjoy views from his bedroom.
How to download Mansion map?

Tap the file and open it in Minecraft PE.

Can I use this map with my friends?

Yes, the map can be used for a multiplayer game.

Can i use the map in the survival mode?

Yes, the map is suitable for the survival mode.
download anchor
Download Mansion map for Minecraft PE