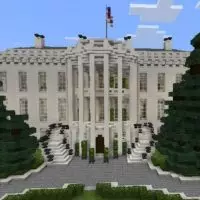 White House Map for Minecraft PE
Version MCPE: 1.2.0 - 1.20.32
Download
Download White House Map for Minecraft PE: visit the famous building and become a president!
What does the White House Map add to MCPE?
Experienced Minecraft PE players who have tried different maps are already hard to surprise with new locations. But this time, there is a special place – a map of the White House in the USA.
The location includes several buildings. It will take time to get around them all.
The map will appeal to those who want to feel like a president and get a luxury building for personal use.
Features
The White House, located in the United States of America, is known around the world. The map for Minecraft PE includes the very building of the presidential residence. It is the place, where the head of the country works, and now Steve can become the owner of this territory.
The developers have made the building as realistic as possible, with many details.
Main building
In the very center of the map is the White House. This beautiful mansion will decorate the world of Minecraft PE. At the main entrance, you can notice columns and a long staircase. You can climb up and get into the building.
Territory
Minecraft PE players can find other buildings on the territory of the White House, each performing its function. Trees and specially planted plants grow in the area. There is a whole park on the map, perfect for walking with friends.
Walking around the building, you can see the backyard full of beautiful flowers.
Interior
The interior decoration of the White House in Minecraft PE is impressive. Many corridors and rooms have furniture and all the necessary elements for life. The interior of the map can be called luxurious.
Other details
To make the White House map even more realistic, Minecraft PE players can install additional textures for this map.
By the way, the location is also available on earlier versions of the game.
How to download White House map?

Tap the file and open it in Minecraft PE.

Can I use this map with my friends?

Yes, the map can be used for a multiplayer game.

Can i use the map in the survival mode?

Yes, the map is suitable for the survival mode.
download anchor
Download White House map for Minecraft PE