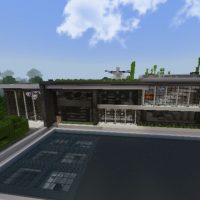 Modern House Map for Minecraft PE
Version MCPE: 1.1.0 - 1.20.32
Download
Download Modern House Map for Minecraft PE and get the best conditions for your survival!
Best Modern House Maps for MCPE
Players can build their own houses in Minecraft PE using different materials and technologies. But you can choose a ready-made modern building among those that the developers have created.
Smart House
This map is an option for a modern house in Minecraft PE. There are picturesque landscapes of the swamp biome around the house. The house not only looks good but is also has Redstone mechanisms inside.
If you go up to the second floor, you can see a nice balcony. It offers a gorgeous view of the territory. Around the players will find many trees and a lot of mountains on the horizon.
The details of the modern house are impressive: the map is good from a technological point of view.
You can find several large rooms and panoramic windows with a beautiful view inside the house.
Modern Mansion
The Modern House map will allow Minecraft PE players to settle in a large and beautiful house. The interior and facade of the house are made in Hi-Tech style. Several users can live in a house of this size at once.
The building is located in a picturesque place of the game world, a forest grows around the house. The house has many rooms and an underground garage for cars.
Self-sufficient Modern Mansion
Players who have always dreamed of living in a luxurious house will like this Modern Mansion map for Minecraft PE. It is a big country house, where there is everything to survive.
There is a beautiful territory around, which has a lot of necessary stuff.
Another advantage of this house is the choice of construction and excellent views. This house has perfect structure and functionality. Here you will find automatic farms, large warehouses, and much more that will allow you to live in comfort.
How to download Modern House map?

Tap the file and open it in Minecraft PE.

Can I use this map with my friends?

Yes, the map can be used for a multiplayer game.

Can i use the map in the survival mode?

Yes, the map is suitable for the survival mode.
download anchor
Download Modern House map for Minecraft PE