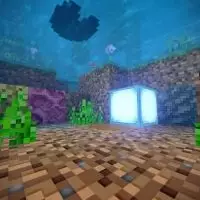 3D Texture Pack for Minecraft PE
Version MCPE: 1.1.0 - 1.20.32
Download
Download the 3D Texture Pack for Minecraft PE, and enjoy more realistic and beautiful graphics!
3D MCPE Texture Pack
Although the blocks in Minecraft PE are voluminous, the texture on them is in 2D format. At the beginning of the game, the user may not notice this.
However, over time, for this reason, interest in the game begins to subside as one continuous picture is felt. And it is for such players that 3D resource packs have been created that improve the graphics of Minecraft PE.
3D Mobs
A reasonably simple texture, affecting only three mobs in Minecraft PE: pig, skeleton, chicken. The pig will have a voluminous tail, and the chicken will have voluminous legs. The most exciting change in the skeleton: it has a quiver for storing arrows.
Better Leaves Block
This texture changes the foliage in Minecraft PE, giving it a 3D model. This makes the trees appear more realistic from afar. Water also changes. It takes on an attractive greenish tint.
R1H3D
One of the best 3D resource packs for Minecraft PE, working on almost all game versions. First of all, some blocks and objects in the frame become voluminous.
In addition, after setting this texture, it may appear that the MCPE graphics are blurry. But if you come closer to the blocks, they become clearer – just like in the real world.
Realistic mobs
Another texture was created to improve mobs in Minecraft PE. The creeper will have legs, and an ordinary spider cannot be distinguished from a real one. Also, pigs and chickens will receive a 3D model.
LvzBx
With this add-on, the cube world in Minecraft PE will be significantly transformed. First of all, the player will notice how the blocks began to have 3D models. In general, with this texture pack, the feeling of the game changes.
Tacky
Unlike others, this resource pack changes a fairly large number of blocks in Minecraft PE. It makes some changes to the surface of the textures, which ultimately gives a sense of volume. It should be borne in mind that these are high-quality textures to cause lags on weak devices.
What if the texture pack doesn't work?

Try to activate the experimental game mode.

Can I use it on servers?

Yes, you are free to use it on public servers.

How do I install this texture pack?

The file is in .mcpack extension, so just tap on the file to automatically install the modification.
download anchor
Download 3D Texture Pack for Minecraft PE