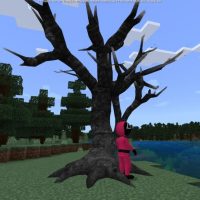 Squid Game Mod for Minecraft PE
Version MCPE: 1.13.0 - 1.20.31
Download
Download Squid Game mod for Minecraft PE for Android and immerse yourself in the universe of the hit TV show!
Squid Game mod for MCPE
The already popular Squid Game has earned international renown in a brief period. Among Minecraft PE enthusiasts, there are also fans of this TV show. All of the photo details have been imported to the game world by the developers.
Squid Game
The add-on for Minecraft PE has all the original details. There is a symbolic robot girl well-known to everyone. In addition, the game has a cursed tree that appears in one of the early stages. The designers did not forget the watchmen.
3D Soldiers
There are many additional upgrades in the Squid Game mod for Minecraft PE and the standard bard fighters. Their three-dimensional texture and attractive appearance distinguish them.
Ignore this because they are the player's foes and will constantly try to kill him.
Other mobs
The Squid Game mod includes many intriguing characters who may be used in Minecraft PE games. The mobs do the same chores as in the original TV show.
After the game begins, the doll robot will attack users. The famous tree from the first game is also included in the mod. The user can also interact with red combatants. They are less vulnerable than the chrysalis, but they are also exceedingly dangerous.
The game's rules
In order to play Minecraft PE, players must first put on special green overalls. These were the characters in the one-of-a-kind drama.
After Steve and his buddies have donned the appropriate garb, the robot girl will attempt to destroy them by throwing fireballs. The user should seek safety when the game begins since the warriors, and the doll will destroy it.
3D Squid Game
It is one more interesting Minecraft PE mod based on the popular story. The original plot quickly gained popularity, and it's often a theme for creating add-ons in the cubic world.
The creators of 3D Squid Game included famous costumes to the world. The players can ger the clothes of players and guards.
There are also realistic sounds that bring the atmosphere to the game.
The costume details are very realistic: the developers have worked hard on the volume of the elements. The Squid Game mod is perfect for multiplayer mode. So you can play the popular game in a blocky world with its help.
How do I install this mod?

The file is in .mcaddon extension, so just tap on the file to automatically install the modification.

Can this mod be run in a multiplayer game?

Yes, for this it is enough just to be the owner of the card and install this modification on it.

What if the mod doesn't work?

Try to activate the experimental game mode.
download anchor
Download Squid Game Mod for Minecraft PE