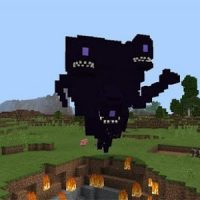 Creatures mod for Minecraft PE
Version MCPE: 0.14.0 - 1.20.31
Download
Download a mod on creatures for Minecraft PE and fight against bosses stronger than Ender the Dragon
Mod on Creatures for Minecraft PE
This selection of mods is ideal for those MCPE players who are tired of the usual standard creatures and want to fight someone more powerful than ever before.
A giant desiccant, a formidable Chocobo, and new advanced zombies are waiting for you in the assembly!
Boss Wither
The recommended mod will add a genuine rival to you for those who still use the Alpha version of Minecraft Pocket Edition below 0.16.0.
He will continually shoot his heads and blow you up. If you consider yourself a PvP master, make sure to test your skills on the Wither.
This mob has a huge amount of health, which is why you need to be well equipped to defeat it in this version.
Chocobo
Fans or those who played in Final Fantasy will appreciate this modification, as creatures such as Chocobo will now appear in the game. A regular race of creatures similar to large birds appears in many Final Fantasy games.
This modification provides seven different colors of the creature. You can tame them with carrots, potatoes, or beets. The way they behave is the same as the horses.
To ride Chocobo, you have to put a saddle on him. You can control it with an iron sword.
Improved Zombies
Standard zombies are no longer as scary as they were in the first games. No one is afraid of them anymore, and every second player can beat them with his hand. This addon features twelve new zombies! They all have their secrets and unique abilities.
Now they will be able to teleport like Enderman, explode like a creeper, and even have the effect of blinding as a witch.
The most dangerous zombie is the moon. The closer it gets to you, the bigger it gets.
The most unpredictable zombie is the rainbow. Depending on the color, the type of attack changes.
How many colors has the Chocobo in MCPE?

The modification provides seven different colors of the creature.

Is the Boss Wither weak in Minecraft PE?

No, he's very strong, you'd better prepare

How can I ride Chocobo?

You have to put a saddle on him. and control it with an iron sword.
download anchor
Download Creatures mod for Minecraft PE