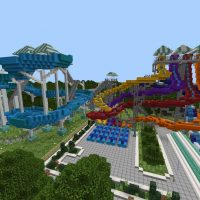 Soak City Map for Minecraft PE
Version MCPE: 1.4.0 - 1.20.32
Download
Download Soak City Map for Minecraft PE, and have fun in one of the best water parks!
Soak City Map for MCPE
In Minecraft PE, Steve has to work very hard to survive. It is necessary to constantly fight with hostile mobs, go down into the mines, get the required resources.
All this is tiring, so there is often a need for rest. In this case, it is worth trying life in Soak city. Here Steve will only enjoy his time and will no longer get tired.
City entrance
Entrance to Soak City in Minecraft PE is paid. A player will have to pay 65 nuggets for one ticket and 200 nuggets for four. There is also monthly access for 350 nuggets.
Thanks to this access, the user will be able to visit this territory within a month without having to buy a ticket safely. On the territory of the city, the player is greeted with various interesting buildings.
Beach grill
First of all, it is worth noting the presence of Beach Grill in Soak City in Minecraft PE. Here the user will be able to eat the most delicious food in the cube world. There is an aquarium on the roof of the building, which is a rather interesting decorative solution. The player can look at various fish as he eats.
Aquapark
Of course, we shouldn't forget about the Soak City aquapark. First, Steve needs to visit the locker room to change for the pool. After that, he can safely visit the water park. The best solution would be to go here with your friends because it will be much more fun.  There are a variety of water slides here.
There are 15 such slides in total. Each has its height, length, and turns so that every player will find something for himself. For those who like to sunbathe, there are special areas by the pool. It is worth noting that there are several pools in Soak City in Minecraft PE. Some of them have water slides, while others, on the contrary, are made for swimming.
How to install a map for Minecraft PE?

In order to install the map, you need to move it to the address games/com.mojang/minecraftWorlds.

How are maps installed in a ZIP archive in Minecraft PE?

First of all, you need to unzip the file, then move it to games/com.mojang/minecraftWorlds/.

How are maps with the .mcworld extension installed in Minecraft PE?

After you download the file, run it. The map is automatically imported into the game.
download anchor
Download Soak City Map for Minecraft PE