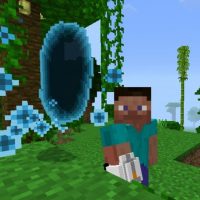 Teleport Mod for Minecraft PE
Version MCPE: 1.13.0 - 1.20.31
Download
Download Teleport Mod for Minecraft PE, and go to any place in the world easily!
Teleport Mod for MCPE
Developers use different ways to help Minecraft PE players to make the gameplay better. You can simplify the process of exploring the world with the help of the teleport mod.
Teleports
This add-on will help Minecraft PE players to make the gameplay easier by adding new blocks. Thanks to them, Steve can travel a long distance in seconds, saving time and not wasting additional resources.
The main function of this mod is adding items to the game from which you can craft a teleport. The basis for crafting will be the pearl of the End dimension.
To make the portal work well, you need to find a space suitable for these purposes and install blocks.
Teleportation Belt
Another modification for Minecraft PE lets players teleport using a belt. There are also special stations that can be placed anywhere in the world.
Sometimes a player needs to search for new resources. Usually, it takes time and effort to come back home. With this teleport mod, Steve can travel to the necessary places of the world by wearing a belt and using stations.
Belt
To teleport to Minecraft PE, you need to put a teleportation item on your character. With the help of this belt, you can move to a station located at a long distance.
To activate the teleport, you need to sit down, wearing a belt.
After teleportation, it takes 10 seconds to recover.
Station
It is one more necessary object from this mod for Minecraft PE. It will help you move after activating the belt. It is recommended not to forget to install stations on the route.
Portal Gun
The new item will help players create portals and travel around the Minecraft PE game world. You can use teleportation not only for Steve but for any objects or animals.
Players need several items to craft a portal gun: the eye of the End dimension, six blocks of obsidian, and two ingots of iron.
At first, the gun will be blue and will create blue portals. After the first use, it will turn orange.
How do I install this mod?

The file is in .mcaddon extension, so just tap on the file to automatically install the modification.

Can this mod be run in a multiplayer game?

Yes, for this it is enough just to be the owner of the card and install this modification on it.

What if the mod doesn't work?

Try to activate the experimental game mode.
download anchor
Download Teleport Mod for Minecraft PE