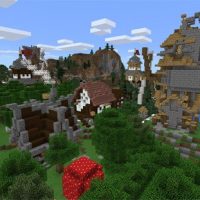 Castle map for Minecraft PE
Version MCPE: 0.14.0 - 1.20.15
Download
Download Castle maps for Minecraft PE: become lord of the lands or declare war on the neighboring earls – all of this in these places.
Castle map for MCPE
The construction of castles is probably the most common topic for construction at Minecraft PE: players have built them since the game's first release.
Even the game's trailer shows the castle that the players first built in the game. However, this process takes a lot of time and resources, so it is better to download it ready.
You can both play with friends on these maps and conquer unimaginable spaces!
War of castles
The area is different for Minecraft Bedrock Edison in that it is a mini-game. It turns out, in addition to the most beautiful castle, the players will be able to organize a competition.
In short, you need to steal the other team's particular unit and bring it to your base at Minecraft PE.
You have to make sure your block is not stolen. After you steal the block, place it on your base above the emerald block. The team that did it first wins.
Horror town
Like many castles of the Middle Ages, this castle includes not only stone fortifications but an entire village. At the same time, the map itself is made on the theme of Halloween.
By the way, as the authors of the map for Minecraft Bedrock Edition note, the location has a unique texture pack that will lead you into the purple-orange colors of this holiday.
Rexzy Castle
This wonderful area with its huge castles in Minecraft PE will enjoy many of its atmospheres. The point is, you'll be in a small village.
It has a small port with English ships, according to flags. By the way, there are also towers, mills, the castle itself, and other small structures.
Like many fortified structures, the fortress stands on a cliff, which is noticeably higher than the village itself. It's a strategic decision because it'll be harder to storm it.
Is there any mini-game?

Yes, it is the War of Castles map.

How long have the maps on castles been popular?

They have been popular since the creation of the game.

Are there structures?

Yes, this version contains various constructions.
download anchor
Download Castle map for Minecraft PE