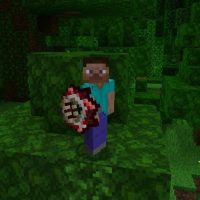 Terraria Texture Pack for Minecraft PE
Version MCPE: 1.17.0 - 1.20.15
Download
Download Terraria Texture Pack for Minecraft PE: colorful and unusual shields that will make the image of the hero bright and memorable!
Terraria Texture Pack for Minecraft PE
Terraria Texture Pack will definitely please the players because the developers add 5 shields from Terraria to the game. At the moment, the items do not have any additional features in Minecraft PE, but at the same time, they look very impressive.
Therefore, if the player wants to replace the standard dim shields in the game, this add-on will cope with this task!
What is Terraria?
Terraria is a fairly popular game today that takes the player into a fairy-tale world. This project is made in the sandbox genre with a fairly open colorful world.
It is a two-dimensional game that has many fans in the gaming world. In fact, it is quite similar to Minecraft PE, the only difference is that the cubic world is a 3D space.
Terraria Shields
Not a secret that the shields in Minecraft PE are not particularly interesting and colorful. The developers of Terraria Shields have added 5 new variants to the game, which look really impressive. Each item has different external characteristics:
Cobalt-  blue with a yellow cross in the middle;
Obsidian – a shield of bright purple color, which depicts a skull;
Ankh Shield – it depicts one of the most famous Egyptian hieroglyphs;
The Paladin shield is bright yellow, perfectly complements the image of the hero;
The Shield from the Eye of Cthulhu is the most intimidating and formidable.
In order for a new shield to appear in the game, you need to open the resource pack settings. Next, select the Terraria Pack and click on the wrench to open the settings menu. Then just change the slider to select exactly the item that you like.
Each time the name of the shield will be displayed, which will help in the selection process.
How to install these textures?

Download and open it in Minecraft PE.

Can I use it on servers?

Yes, you are free to use it on public servers.

Have weapons chaged their textures?

Yes, they have been altered.
download anchor
Download Terraria Texture Pack for Minecraft PE