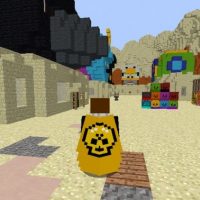 Brawls Stars Texture Pack for Minecraft PE
Version MCPE: 1.12.0 - 1.20.31
Download Brawls Stars Texture Pack for Minecraft PE: add bright colors to the cubic world and play with items from the popular game.
What is interesting in Brawls Stars Texture Pack?
Brawls Stars Texture Pack is based on a mobile game of the same name, which has gained huge popularity. It is played by millions of people around the world. The main task of the players is to win battles and get glory and trophies.
The creators pay special attention to the elaboration of skins and visual models. Now the world of Minecraft PE will look special because in this update every element is fully detailed.
Main Features
Thanks to Brawls Stars Texture Pack, every Minecraft PE user can build battle arenas and try to survive with their friends.
The entire color scheme of the cubic world has been changed to a richer and brighter one. Shades can even be called cartoons.
On some blocks, users can notice glare, and the swords look like toys.
Weapons and armor
In Brawls Stars Texture Pack, all weapons and armor have changed their color. By the way, an emblem in the form of a skull – the symbol of the game – appeared on the raincoats. Other cloaks from the popular mobile game are also available to the heroes.
In Minecraft PE, there will be three types of chests that have special textures. Brawlers fall out of them.
Players can also create weapons of famous heroes, for example, the sword of El Primo. All the equipment in the game has changed and will not break for a long time. The leather and iron armor have changed.
If the player wants to completely transform into one of the heroes of Brawls Stars, then there are skins in the update:
El Primo;
Bo;
Morris;
Nitt.
From a fairly large selection of items, players can select a shield, a boomerang, a bow, and two swords. Now each user has the opportunity to play two games at the same time.
What if the texture pack doesn't work?

Try to activate the experimental game mode.

Can I use it on servers?

Yes, you are free to use it on public servers.

How do I install this texture pack?

The file is in .mcpack extension, so just tap on the file to automatically install the modification.