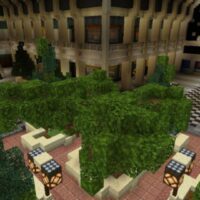 FNAF 6 Map for Minecraft PE
Version MCPE: 1.18.0 - 1.20.40
Download
Download FNAF 6 Map for Minecraft PE: Send to explore the vast territory of the shopping center, and invite friends to arrange themed games there.
What is interesting in the FNAF 6 Map?
Many updates were created based on the popular computer game Five Nights at Freddys, but no similar FNAF 6 Map has been released yet. This time, the heroes of Minecraft PE do not end up in a pizzeria, but in a huge shopping mall.
Inside you can find a huge number of various rooms, equipped in the theme of the original story. A large-scale underground territory will allow a large number of cubic world users to spend time here at once and arrange unusual adventures together.
Main Features
Each user will be able to appreciate the entire territory of the FNAF 6 Map because it has not only huge dimensions but is also fully equipped. The interior is made in the style of the famous horror game, which means there will be a lot of colorful blocks, as well as images of the main characters from the original story.
The entrance to the main room is decorated with a huge Freddy bear head, which reminds Minecraft PE players of this character. It is worth noting that the underground part of this shopping center is really large and the author has made enough efforts to create good lighting here for a comfortable pastime.
Creepy atmosphere
The atmosphere of horror is complemented in this place by sounds that the Minecraft PE user will periodically hear. But they are not music, but, for example, breathing. It is like someone is standing right behind you, but if you turn around, there will be no one.
Fear-mongering and the constant feeling that someone is watching the participants is the main feature of the FNAF 6 Map. Try to gather all your strength and explore the entire territory right now.
Opportunities
Given the huge scale of the FNAF 6 Map territory, players can conclude that several participants can be on the map at the same time.
It is perfect for any multiplayer adventures in Minecraft PE, for example, for a game of hide and seek or thematic stories.
How to download FNAF 6 Map?

Tap the file and open it in Minecraft PE.

Can I use this map with my friends?

Yes, the map can be used for a multiplayer game.

Can i use the map in the survival mode?

Yes, the map is suitable for the survival mode.
Download FNAF 6 Map for Minecraft PE