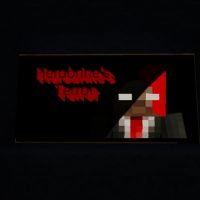 Herobrine's Terror Map for Minecraft PE
Version MCPE: 1.0.0 - 1.20.32
Download
Download Herobrine's Terror Map for Minecraft PE, and try to survive in terrible and difficult conditions!
Herobrine's Terror Map for MCPE
Herobrine is a character from the most famous legend in the Minecraft PE universe. According to legend, this character was the deceased brother of the game's creator, Notch. Since then, players have begun to invent new stories and even build whole maps about this topic.
Herobrine terror
As you can already understand, this legend has a horror genre. This means that Herobrine scared the players and harmed them in every possible way as they survived. On the Herobrine Terror map, the player can face this character face to face. First of all, the user appears in the lobby to familiarize himself with all the necessary information about the map.
It is worth noting that it has its texture pack and terrifying and loud sounds in Minecraft PE. Therefore, this map should only be played by fearless players. As they survive, various scary creatures will crawl out onto the user. Loud sounds will accompany their appearance. It is recommended to go with friends, as it will be more enjoyable.
Big Herobrine
Unlike the previous map, the user will have to fight with the big Herobrine in Minecraft PE. He first appears in a small room where you can read the rules. Here you can also learn how to fight this monster in Herobrine Terror map. After the start of the battle, the player will be on a platform that consists entirely of hellish bricks.
Also, the user will have 64 fried chicken, a sword, and a pickaxe. Only the redstone block can be broken with a pickaxe. You need to break all the redstone blocks on Herobrine to defeat him finally. If the user cannot do this and dies, then he will immediately lose. Also, the user will have effects that will allow you to jump high and not receive damage from falling.
How to install a map for Minecraft PE?

In order to install the map, you need to move it to the address games/com.mojang/minecraftWorlds.

How are maps installed in a ZIP archive in Minecraft PE?

First of all, you need to unzip the file, then move it to games/com.mojang/minecraftWorlds/.

How are maps with the .mcworld extension installed in Minecraft PE?

After you download the file, run it. The map is automatically imported into the game.
download anchor
Download Herobrine's Terror Map for Minecraft PE