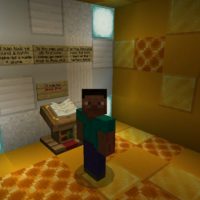 Murder Mystery Map for Minecraft PE
Version MCPE: 1.12.0 - 1.20.31
Download
Download Murder Mystery Map for Minecraft PE: investigate a gruesome murder or play killer and victims with your friends.
What is interesting in Murder Mystery Map?
The fascinating process of the game in any case will not leave any user indifferent. The authors tried to create an eerily exciting atmosphere in the world of Minecraft PE.
Murder Mystery Map is created for those players who have long wanted to try as a detective or play a real horror story with friends.
Eisral Village
According to the plot of this update for Murder Mystery Map, the player becomes a real detective. Naturally, all detective stories begin with the fact that there was a murder. So it happened this time.
The hero will need to find out who committed the audacious crime. It will take a lot of work because you need to interview all the residents, as well as collect the necessary evidence.
In this modification for Minecraft PE, the author tried to add as many difficulties as possible.
Riddles, puzzles, and even the most real parkour tests are waiting for those who dare to take up this difficult task.
SG Mystery
For the game to start in this update for Murder Mystery Map, at least five players must gather. Users can do more, but not less than this amount.
One of the players will be a killer, the rest will have to make every effort to survive. Weapons that they can acquire by accumulating gold can help the heroes in this.
In turn, the player who performs the role of the killer must prevent them from doing so. By the way, at the time of passing the test, all the name labels in Minecraft PE will be hidden so that none of the players will find out who the killer is until the time comes.
It is also worth noting that in this update, players have the opportunity to observe the ongoing gameplay from the outside, without taking a direct part in it.
How to download Murder Mystery Map?

Tap the file and open it in Minecraft PE.

Can I use this map with my friends?

Yes, the map can be used for a multiplayer game.

Can i use the map in the survival mode?

Yes, the map is suitable for the survival mode.
download anchor
Download Murder Mystery Map for Minecraft PE