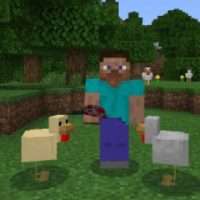 Chicken Mod for Minecraft PE
Version MCPE: 1.12.0 - 1.20.40
Download
Download Chicken Mod for Minecraft PE: add variety thanks to a large selection of feathered pets.
What is interesting in Chicken Mod?
Especially for all farmers in Minecraft PE, developers have created an update called Chicken Mod. It adds several new birds to the cubic world.
The player will have as many as nine options to choose from. As everyone knows, there is only one color of feathers for chickens in the game. Now users will have a wider choice.
More Birds
In this modification for Chicken Mod, the hero will have six options for coloring chickens, besides the standard white color, there are more:
grey;
black;
brown;
dark grey;
black and brown.
These are quite standard birds, they lay eggs. The developers have changed only the appearance of the animals, but this is enough to bring variety to the gameplay of Minecraft PE.
Evolved
This update for Chicken Mod will add only 3 new birds to the cubic world in Minecraft PE, but their capabilities will be very interesting. Fiery can be met by players in the desert. If she wears a saddle, the player will be able to fly on it.
The next type of these bird is Ice. Spawns in rivers and lakes. And with the help of a saddle, it will be possible to swim on it. But be careful, in hot biomes this animal takes damage.
Another option: Water chicken. Users can only meet her in the Lower World, except for this location, she does not survive anywhere else. On not as well as on the Fiery One, you can fly with the help of a saddle.
Items
The developers of Chicken Mod have taken care and prepared items that will be very useful to the player and the birds:
Fire, Ice, and Water can cure chickens;
Ice, Fire, and Water seeds – used for growing plants and taming these birds;
Also, Minecraft PE players will have access to 3 of the same types of plants that will drop these items and seeds.
How do I install this mod?

The file is in .mcaddon extension, so just tap on the file to automatically install the modification.

Can this mod be run in a multiplayer game?

Yes, for this it is enough just to be the owner of the card and install this modification on it.

What if the mod doesn't work?

Try to activate the experimental game mode.
Download Chicken Mod for Minecraft PE