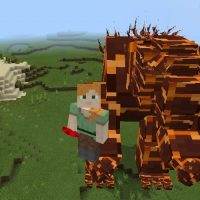 Godzilla Mod for Minecraft PE
Version MCPE: 1.14.0 - 1.20.40
Download
Download Godzilla Mod for Minecraft PE: evaluate the new giant monsters and try to win the battle with them.
What is Godzilla Mod adds?
To describe these creepy creatures, the word big is not enough, they are just huge and, of course, terribly dangerous. Godzilla Mod adds a lot of powerful monsters from the famous movie to the Minecraft PE world. They look incredibly huge and intimidating.
Monsters have a large reserve of health and only the bravest player will dare to engage them in battle. At the same time, they will fight among themselves and then it is better not to get in their way.
Giant monsters
Players will meet different types of this creepy creature in Godzilla Mod for Minecraft PE:
Fiery – has 90000 health units;
Mechanized – close-range attacks with it are very dangerous, and in the long-range monster uses missiles;
King Ghidora – especially dangerous in hand-to-hand combat;
Montra;
Rodan;
Behemoth – looks like a big mammoth with tusks;
Scylla is a creepy mix of spider, octopus, and crab.
These are really the biggest and most terrifying monsters that have ever appeared in the cubic world.
Monster Confrontation
Another Godzilla Mod addition is based on the plot of the movie, in which a giant mutant monster fights King Kong. In the world of Minecraft PE, not only evil but also kind creatures will appear. The main thing is not to confuse.
In addition to titans, 2 types of soldiers will appear in the cubic world: Monarch and Apex. The eerie atmosphere is complemented by the sounds of monsters and shooting.
Add action to the usual gameplay. The cubic world has never seen such incredible creatures. Monsters are truly huge, they are higher than any buildings and even mountains.
Do not forget to turn on the Experimental Mode in the game to take advantage of all the possibilities!
How do I install this mod?

The file is in .mcaddon extension, so just tap on the file to automatically install the modification.

Can this mod be run in a multiplayer game?

Yes, for this it is enough just to be the owner of the card and install this modification on it.

What if the mod doesn't work?

Try to activate the experimental game mode.
Download Godzilla Mod for Minecraft PE