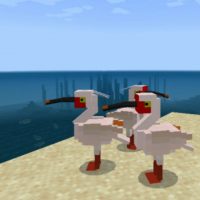 Birds Mod for Minecraft PE
Version MCPE: 1.1.0 - 1.20.31
Download
Download Birds Mod for Minecraft PE: add new colors to the game, and meet incredibly beautiful and interesting creatures.
What is new in Birds Mod?
As all users know, there are no wild animals in Minecraft PE that would fly freely in the sky, creating a more realistic picture of the world. The authors of Birds Mod decided to fix this point and added many different creatures.
Players will be able to observe different breeds of these beautiful creatures and interact with them. Now the gameplay will become even more interesting and exciting. Players can meet new feathered friends and evaluate all their capabilities right now.
Toucan
In real life, these exotic animals are famous for their large beak and bright coloring. In Minecraft PE, they will replace the usual chicken and will live both on the ground and in the air.
The authors of this update for Birds Mod did not add the ability to train this mob, but it can be put on a leash. Also, the creatures will carry 2 types of eggs. Rotten, with which users should be careful because they can be poisoned. And normal, it is used for spawning new individuals.
More features
In this update, players will have the opportunity to get acquainted with several dozen different animals at once. From the smallest like a sparrow to quite large individuals. To see all the options, players need to open the Creative Mode Inventory.
All creatures have their sounds that exactly repeat their real voices. The authors of Birds Mod have tried to make a really extensive set of different mobs, with which the world of Minecraft PE will be incredibly transformed.
Players will be able to observe different species and study their behavior. This will add new colors to the cubic world. Also, users will be able to use feathers, which birds will often drop. Their meat is also suitable for eating.
How do I install this Birds mod?

The file is in .mcaddon extension, so just tap on the file to automatically install the modification.

Can this mod be run in a multiplayer game?

Yes, for this it is enough just to be the owner of the card and install this modification on it.

What if the mod does not work?

Try to activate the experimental game mode.
download anchor
Download Birds Mod for Minecraft PE